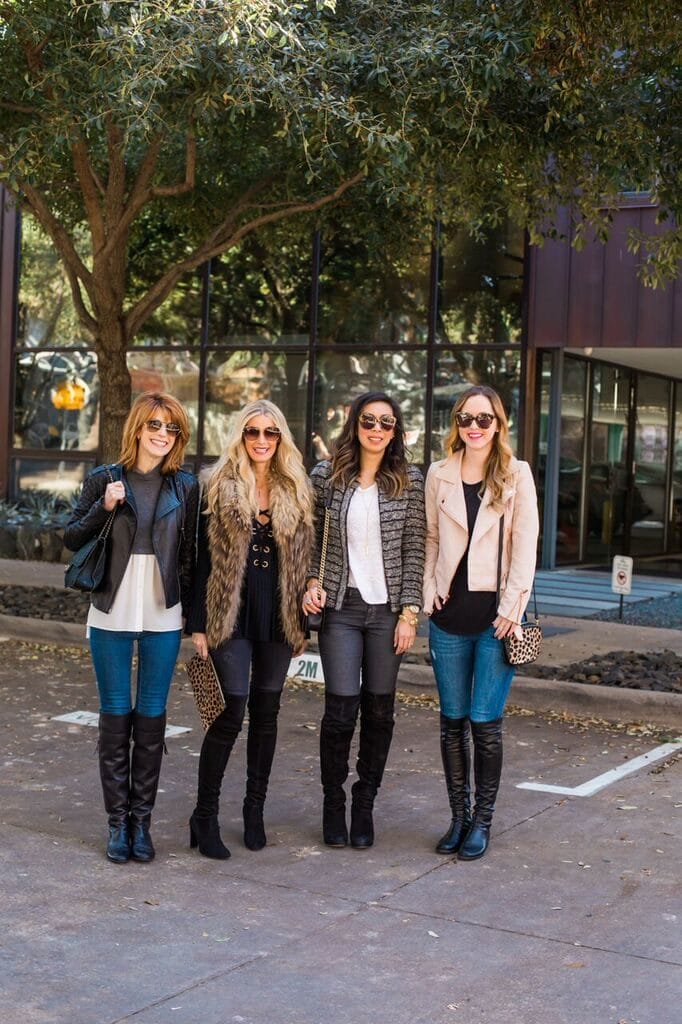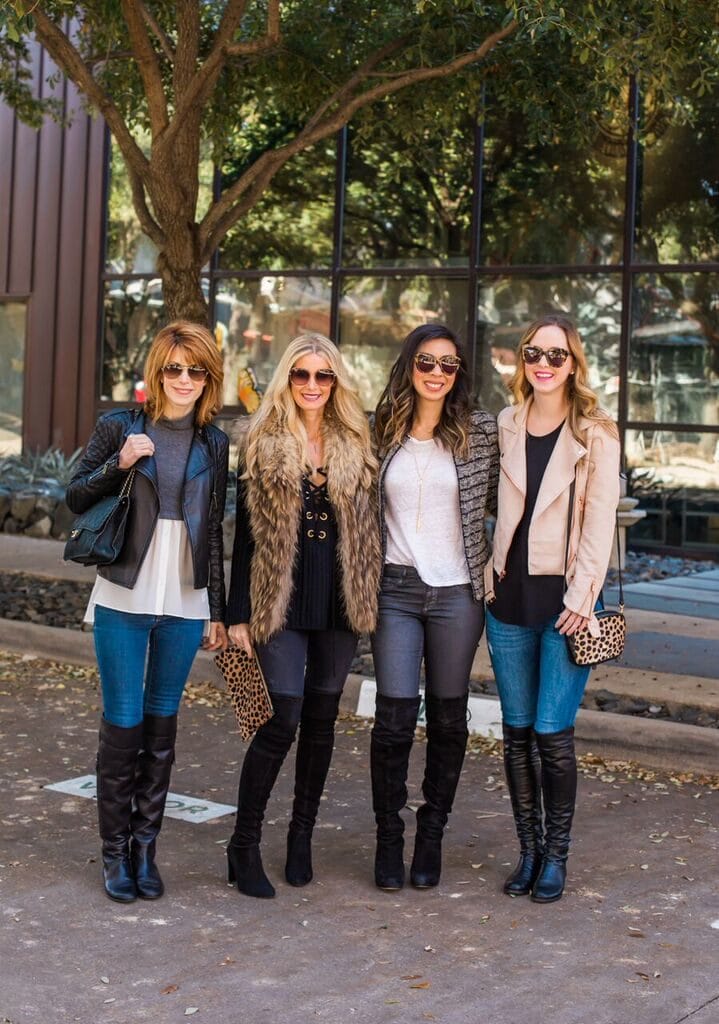 Welcome to the first Chic At Every Age post for 2016. If you are new to The Middle Page, this is a monthly series that I do with three of my favorite bloggers in the Dallas/Fort Worth area. For this series, we have a chic  lady in her 20's, 30's, 40's, and yours truly representing the 50's, showing how to style the same item in their own way.
This month, we are showing the over the knee boot (or as it is sometimes referred to…OTK boot). At my age, I like wearing an OTK boot that is flat, or has a wedge. I like the boots with jeans, but would wear them with a skirt  or dress, with a few conditions. First( for me personally), I would always wear a black tight, as not to show any skin. Second, I think a flat or wedge with a dress or skirt looks better than a pointed high heel, but if you do wear a heel, everything else has to be tailored. Third, the fabric would need to be leather or suede…no patent (could potentially look like a hooker!). As you can see from above, we all are pretty casual and streamlined in our choice of outfits. I think a ruffled billowy top might make you feel pirate-like with an OTK boot!
Ashley of SIDESMILE STYLE (20 something), and I were on the same page, wearing a casual top and moto style jacket.
Sam of STYLE OF SAM (30 something), chose a tee and sweater style jacket to wear with her boots.
Heather of STYLE BY FLUENT (40 something) is a little more dressed up, with a great black lace up blouse and  fur vest. The boots that she and Sam are wearing, are by Steve Madden, and are a knock off of the Stuart Weitzman OTK boot. They are a fraction of the price too!
I am wearing a sleeveless top, moto jacket and jeans with my Stuart Weitzman boots. I would actually wear any of the outfits above at my age. All are age appropriate in my book!
How do you all feel about this type boot for the over 40 crowd? I hope you all enjoy this series, because we have so much fun doing it! Have a great weekend and thank you so much for reading!!!
Photos: Mary Hafner
Top//(bought at a small boutique, but similar HERE), Jacket//Scoop NYC-old (new version HERE and on sale), Boots//old (similar HERE and HERE both on sale) Jeans// Bag//(similar HERE)