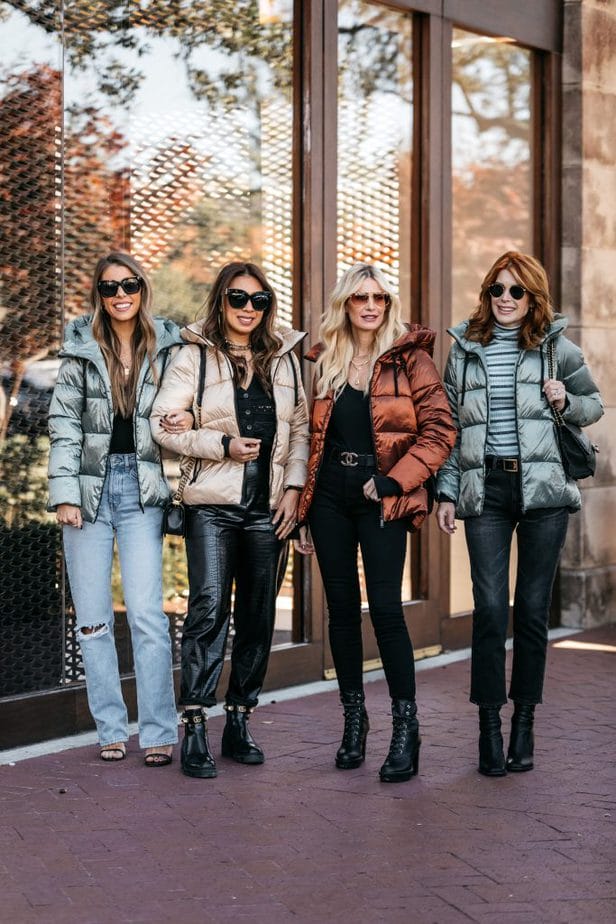 CHIC AT EVERY AGE- THE BEST PUFFER JACKET
NATALIE- THE FASHION HOUR //  SAMANTHA- STYLE OF SAM //  HEATHER- SO HEATHER
Hello, everyone! I hope you have had a great week and weekend! I am off schedule again because I was traveling this week. So, I usually keep up with the blog (even while traveling), but this trip was different. We traveled with our daughter and our five-month-old granddaughter (plus our dog!). I forgot what it's like to travel with a baby! Honestly, it seems a lot harder now. There are more items to travel with than when I had babies. We were in Montgomery, Alabama, visiting and introducing the baby to her great-grandparents. She was a perfect angel the entire time!
We got back home on Thursday night, and I came back to a list a mile long. I wanted to write on the plane, but of course, there was no internet. So, here we are on Sunday with the Chic at Every Age girls and the best puffer jacket. Why do we think it's the best? Because of the range of fun colors it comes in and the budget-friendly price tag. I'm sure most of you already have a puffer jacket, but this is a great one to add if you don't. Puffer jackets are a great way to up your fashion game whether you are wearing jeans or a dress, and they keep you warm!
The Puffer from Sam Edelman
The puffer we are wearing is from Sam Edelman. It comes in six iridescent colors and is water-repellent. Natalie and I chose the green, but I think all of the colors are beautiful. The price ($200) is amazing too! It's less expensive than most tops! You will look chic and stay warm in this beauty! I paired my jacket with a cute striped turtleneck in the same color family and black jeans and boots. I plan to wear this coat with an all-black look and an all-cream color look. Now that I am thinking about it, how pretty would all navy look with this coat?

It's a great weekend in Dallas to wear this puffer jacket; however, I better wear it now because it's supposed to be anywhere from 75-84 on Christmas Day! What a bummer! I don't like a hot Christmas, but it's Texas, and you never know! I'm running around like a chicken with its head cut off this weekend. I want to be finished by Monday to enjoy the few days before Christmas. I hope you all have a great weekend and enjoy the season!
Stay well and be safe! xx
Photos: Beckley & Co
Puffer Coat // Turtleneck // Jeans (budget-friendly) // Boots (similar) // Bag (similar)