Paperbag Denim Reminiscent Of The Early '90s
Hi, everyone! Well, who knew that the Sahara Desert sand could reach this far? I know it's happened before, but Saturday was a very dusty day here in Dallas. My eyes felt like they were on fire all day, and I had the biggest headache. That could have been because I had a mimosa at lunch (I never day drink)! We spent the morning looking at houses with my son and daughter in law who live in Dallas. They found THE COOLEST home, and we are hoping that they get it. I love looking at houses! Today, I am showing a pair of paperbag denim that is so chic and reminiscent of the early '90s.
I don't remember many of my clothes from the '90s, but I do remember a pair of grey paperbag waist pants I had that I wore all of the time because they were so flattering and made my waist look small. I ordered this denim pair hoping they would do the same, and I love them. I am going to order the blue pair as well (I went down a size in these). A paperbag waist does make your waist look small, but you have to wear them with something a little more fitted on top, like this. I paired them with this puffed sleeve blouse that could be a bit more voluminous than it should be, but I think it still works. I love the blouse, but there are only xs and small sizes left. I promise when I order these things, I make sure there are all sizes available, but by the time I get, shoot, and then post, it may be sold out (depending on the item). But you know that I got you, and I try to find similar pieces for the same look. The blouse is very sheer but I wore a nude bra under it and I like the look. A black bra would be great too! Puff sleeves are one of my favorite trends right now!
The sandals that I am wearing are a fricking fantastic dupe for the Bottega Veneta pair. My friend, Heather, saw them, and she thought they were the real deal. I can't believe how amazing they are at $30! Yes, I said $30! I ordered them in the nude as well, but I think the black looks so much better.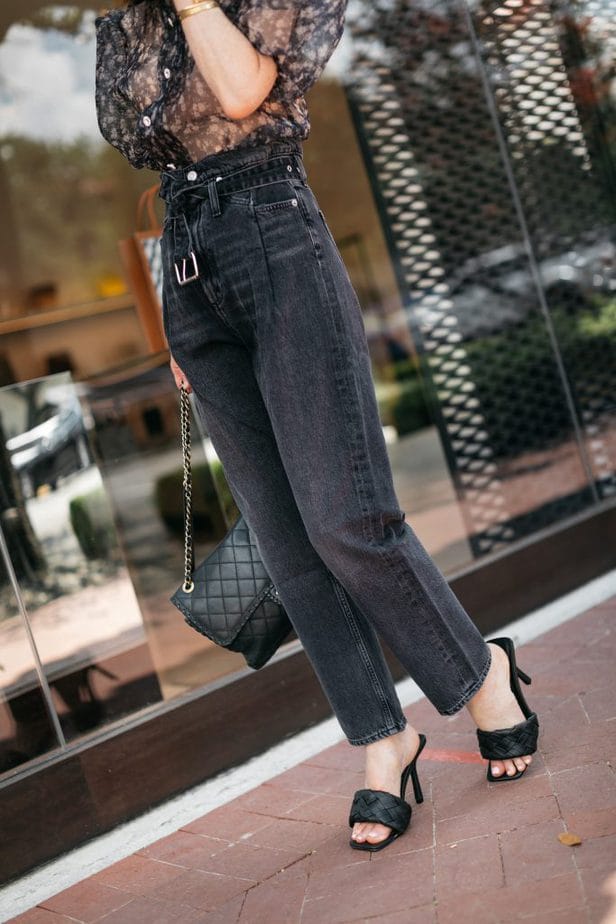 I am going for my first massage since February today. I have done something to my neck, and the pain is running down my arm. I am a little nervous, but our masseuse is not working on many clients, and it's just her in an office by herself. I still think I am going to wear a mask. I need to start looking for bedside tables for the new bedroom we are doing. I ordered the headboard from Restoration Hardware and now need the tables. We have picked out the carpet, woven shades, and the stair runner going up to the room. The marble and tile are picked out for the bathroom, so we are on the way! Now I need to think about bedding and lamps. I am excited about my post for this Wednesday. I am celebrating! See you then!
Have a great Monday and be well! xx
Photos: Beckley & Co
Blouse // Jeans // Shoes // Bag (similar)